The very popular messaging app WhatsApp has launched fingerprint lock feature for it's users. Though this feature was first introduced to the iOS platform. Now this amazing WhatsApp messenger fingerprint lock feature can be used by the android users.
With the help of this feature users now can lock or unlock their WhatsApp messenger. Please follow the below mentioned instructions to enable WhatsApp fingerprint lock feature.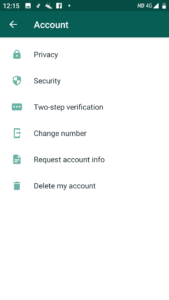 Open WhatsApp and tap on three vertical dots at the top right corner of the screen

Now Tap on Settings

Tap on Accounts than Privacy

At the bottom you will find "Fingerprint Lock" Option just tap on it to enable it. If you don't see Fingerprint lock at the bottom it means your whatsApp is not updated. Please update your WhatsApp first. As soon as you update and follow the first 3 steps you find the "Fingerprint Lock" Option at the bottom

Click on "Fingeprint lock" Option to enable it.
After enabling the feature it will give some below mentioned options
Unlock with Fingerprint ( if you want to disable WhatApp fingerprint lock feature you need to select it)

Automatically lock feature where this app allows you to select from there options 1. Immediately 2. After 1 Minute 3. After 30 Minutes ( You can select any of the three as per your choice)

Show content in notification – It enables Preview sender and message text inside new message notification. 
Read : Best Educational Apps for Kids, Preschoolers or Toddlers
What's New with latest Update
Consecutive Voice messages will now play in sequence, so you don't have to press play on each message.
For those who don't know about WhatsApp Messenger
WhatsApp Messenger is a free messaging App available for Android and other smartphones. It uses your phone's internet connection (EDGE/2G/3G/4G or Wi-Fi) to let you message and call your family and friends.
WhatsApp helps to send and receive messages, calls, photos, videos, documents or even voice messages.
Read : Best Gaming Mobile Phones under 15000 in India
Best part of using WhatsApp Messenger
No Fees – Its Free to use you just need internet connection and you don't have to pay for every message or calls.
Multimedia – Send and receive photos, documents, videos and voice messages
Free calls – Call anybody in your country or out of your country using whatsApp messenger for Free.
Group Chats – Make groups with friends, colleagues or family members to stay in touch
This is one of the very most popular App with over 1 Billion download and has overall 4.3 user ratings. Click here to download – WhatsApp Messenger
So this was our blog on all new WhatsApp fingerprint lock feature. If you have any queries or suggestions please write in the comments below